The alcohol-free trend is picking up pace, and formulators are investigating ways to create delicious products that mimic their alcohol-full counterparts. We recently sat down with FlavorSum Beverage Applications Scientist Blake Lyon to tap into insights about creating an enjoyable alcohol-free product without compromising on taste, novelty, or drinking experience.
Q&A with FlavorSum Beverage Application Scientist Blake Lyon
What does the alcohol-free landscape look like?
"Alcohol-free is quickly changing from a pocket segment to one to watch. It's still small, representing less than 5% of launches in adult beverages, according to Innova Market Insights. But new products with a no alcohol claim in North America more than doubled in the past year. Moderation is a trend we believe will continue well into the next decade, especially with COVID-19 influencing consumers' desire for healthfulness. Beyond health and wellness, the variety of motivators to consume alcohol-free indicate that this is a segment with sticking power."
What are those consumer motivators to drink alcohol-free? And what about the occasions?
"The motivations behind drinking non-alcoholic offerings vary, and so do the occasions.
Healthfulness is a big driver for growth in the alcohol-free space. As I mentioned, COVID-19 is shaping the consumer experience. Health has become a top priority, and, consequently, alcohol moderation is picking up pace. In addition to health motives, we also see younger generations (gen-z and millennials) championing the moderation movement. Innova Market Insights reports that one-third of consumers aged 18-25 are now saying that they never consume alcohol. Finally, some consumers want to avoid alcohol for personal reasons but still want to enjoy experiences that usually feature traditional alcohol. Alcohol-free gives them that option.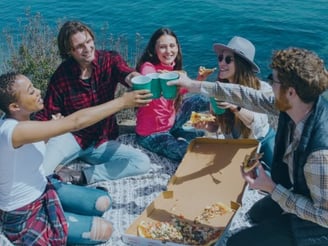 When it comes to occasion, alcohol-free closely mimics the alcohol segment. Consumers still want to experience the premium feel and sophistication of alcohol; they just don't want the alcohol. If an alcoholic beverage is appropriate, alcohol-free is too, such as at weddings, dates, cook-outs, or parties. And just like regular alcohol, consumers are also enjoying alcohol-free products at home. The one time alcohol-free outperforms alcohol-full is when the impacts of alcohol are unwanted, such as during a work function or early in the day. In these scenarios, alcohol-free is a solid option to deliver the experience without the intoxication."
What are the formulating challenges associated with alcohol-free?
"Creating an alcohol-free product is a really interesting endeavor because you have to deliver on a recognizable experience, but without the key component that makes it exist. Developers have several considerations when formulating a credible alcohol-free product, but taste and mouthfeel top the list. Whether it's alcohol-full or alcohol-free, the taste of a finished beverage should be the number one priority. The consumer won't want to drink it if it doesn't taste good. When I say mouthfeel, I'm talking about the experience inside your mouth after you take a sip. Beer, spirits, and wine all offer a unique mouthfeel that can be a challenge to repeat once you remove the alcohol component. Formulators can employ different techniques to deliver mouthfeel, such as including more sugar or fat, but it's a balancing act. It's important to work with knowledgeable applications experts to ensure all of these factors are covered."
How can formulators deliver delicious taste in an alcohol-free beverage?
"A great way to achieve a satisfying and unique taste in your alcohol-free beverage is through flavor inclusion. Flavors make life easier for formulators. Formulators can work with a flavor house to customize a flavor to their exact wants and needs at the start of the process. The benefits don't end there. By using flavors, product developers can produce a repeatable product every time—this means not worrying if your ingredient is out of season or if you include it, in the same way, every time. Flavors can take a lot of the guesswork and room for human error out of formulating. Finally, flavors provide great benefits from an efficiency and safety of manufacturing standpoint. Gone are the days of a brewer climbing into a vat to remove particles left behind from whole ingredients or climbing up a ladder with a heavy container of whole ingredients. Flavors enable the optimized production of a repeatable product that consumers will love."
What would be your first product if you wanted to develop an alcohol-free beverage line?
"That's a tough one because this is an interesting space, and there is so much fun to be had with flavor. I discovered one of my favorite flavor profiles for alcohol at a bourbon festival. It was a grapefruit bourbon cocktail. It wasn't a combination I would naturally gravitate to, but the way the citrus and oaky notes came together made for a really enjoyable experience. If I had the opportunity to create my own alcohol-free beverage, I would start by exploring the interactions of those citrus and oaky flavor profiles to try and find the perfect combination."
About Blake Lyon
Blake brings more than 10 years of experience as an Application Technologist to discussions with beverage formulators. His skills with beverage applications, method development, sensory evaluation, and analysis are evident in the unique and delicious solutions he creates.
Contact the FlavorSum team for support with your next alcohol-free adult beverage launch. If you're starting your innovation process, subscribe to FlavorSum Discover to get additional inspiration!