Consumers are actively looking for more than nutrition from foods and beverages. Several weeks ago, we published an article exploring findings from a FlavorSum study designed to assess consumer expectations about food functionality. Results showed about two-thirds of people in the U.S. and three-fourths of Canadians want food and beverage solutions to support their health goals.
And interest is high in functional foods that can meet various needs, from baseline health concerns like immunity or longevity to enhancing energy or supporting relaxation.
In Part 2 of our summary, we examine the categories, ingredients, and flavors associated with specific functional benefits. Our goal: to help product developers focus innovation in areas that resonate with consumers.
Benefits and Flavors Consumers Link to Food & Beverage Categories
We asked consumers to match benefits with leading food and beverage categories. While each category could offer additional benefits, the top functionalities have lower barriers to trial for new products.
Grain-based baked goods readily fit with gluten-free or allergen-free options. Consumers also link the fiber in grains to digestive and heart health. Bakery items, especially grain-based bar products, also provide energy, fitness performance, and weight management solutions.

Flavors consumers pair with these benefits in bakery include:

Fun tastes like tutti fruitti
Melon
Botanicals such as matcha or hibiscus
Citrus

Cold, non-dairy beverages such as juice, water, soft drinks, and iced coffee or tea could deliver energy, alertness, and mood enhancement. Some consumers associate cold beverages with immunity support or pain relief, representing a niche opportunity for innovation.

Consumers align energy and alertness with

Spice flavors
Indulgent
Fun
Simple sweet tastes

Immunity links to citrus, melon, and spice profiles.

Confections, including chocolate, gummies, and hard candy, naturally fit with mood-enhancement and emotional well-being. But for some people, links also exist between sweets and brain health or pain relief.

The versatility of confections enables candy segments to pair well with most flavor profiles.

Dairy (or dairy-like) beverages could offer lactose-free benefits and support digestive health. Consumers also agree that dairy-like drinks could support weight management, heart health, relaxation, and hair or nail health.

Interest in non-traditional dairy flavors like cotton candy, cookie, cinnamon, or citrus is high for functional dairy-like drinks.

Hot beverages, including tea, coffee, or cocoa, have duality with consumers, who see them as potential solutions to help with energy, relaxation, alertness, and mood enhancement.

Although producers can connect with consumers using a variety of flavor profiles, indulgence resonates across benefits.

Ice cream and frozen desserts fit with many of the benefits named for dairy-like beverages. Consumers look for lactose-free and digestive health benefits in functional ice cream. They also associate sweet, frozen treats with emotional well-being and mood enhancement.

The versatility of ice cream and consumer interest in variety gives manufacturers a broad palette of flavor choices. Opportunities for lactose-free frozen treats include:

Fun flavors
Spices
Botanicals

Yogurt's association with digestive health is straightforward for most consumers. They also link the category to weight management and hair, skin, and nail health.

Like ice cream, yogurt's base pairs well with most flavor profiles. For lactose-free products, consumers would enjoy flavors that are:

Indulgent
Fun
Spice
Botanical
But identifying the benefits and flavors consumers seek from functional foods is only one component of the development process. Incorporating purposeful ingredients that consumers understand or educating them about ingredient functionality is essential to mitigating the skepticism and disappointment many respondents expressed about functional foods they've tried.
What Do Consumers Understand About Functional Ingredients?
Of the more than two dozen ingredients evaluated in our survey, only mainstream ingredients – fiber and protein – have readily understood benefits among more than 50 percent of consumers. Antioxidants, caffeine, and melatonin make up the rest of the top five functional ingredients, about which 40 to 50 percent of respondents acknowledge some level of understanding.
When asked to link specific ingredients with functional benefits, consumers made the following associations:
Immunity-promoting ingredients include antioxidants, ginger, and turmeric.
For heart health, consumers look for omega 3-6-9 or antioxidants.
Brain health also ties to omega 3-6-9 and ginkgo biloba.
The top digestive health ingredients are fiber and lactobacillus bulgaricus (probiotics/prebiotics).
For energy, consumers turn to caffeine and protein as their top 2 functional ingredients.
People who want support for relaxation look for ingredients like melatonin and lavender.
Sources with anti-inflammatory properties include curcumin, turmeric, and antioxidants.
Joint health gets support from collagen, curcumin, and omega 3-6-9 ingredients.
Longevity or anti-aging links with collagen and antioxidants.
And alertness fits primarily with caffeine, although 2 in 10 consumers named nootropics as an ingredient that could deliver results.
Innovations featuring lesser-known ingredients may need additional on-pack information or a fact-based educational component in messaging and advertising. For example, at least one-fourth of consumers didn't readily associate spices like saffron and cinnamon with any functional benefits. And about 2 in 10 aren't aware of the purpose of L-theanine, nootropics, turmeric, or streptococcus thermophilus.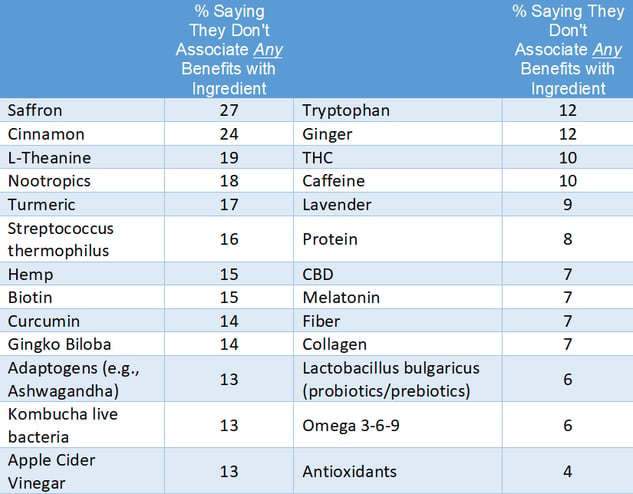 Attend our Webinar to Learn More about Consumer Needs for Functional Food and Drink
In-market success with functional food requires producers to balance consumer needs and ingredient knowledge with the formulation complexities associated with creating a purposeful product that tastes delicious.
Register for our webinar to get more details from FlavorSum's proprietary study that will inform your NPD plan for functional food or beverages!
WEBINAR: Blueprints for Success - Insights to Help Build Benefits into Food & Beverage
September 28, 2021

2-3 pm, EST
We'll dive deeper into the ingredients, flavors, and functions consumers think about for purposeful foods.
If you have immediate questions about our survey or a facing a formulation challenge, contact our team. We're here to help speed the success of your next launch.