When getting coffee, the barista at your local café may ask, "Do you want room for cream and sugar?" The creamer could be a solid 'yes,' but if you're following the trends and looking for alternative sweeteners, you may decide to bypass the sugar.

Consumer behavior around sweeteners has undergone significant changes over the last few decades. North Americans are seeking out reduced sugar or zero-sugar products and showing a preference for natural sweeteners over artificial ones.

The 2020 Food & Health Survey from the International Food Information Council (IFIC) found 74% of consumers were trying to limit or avoid sugars. Mintel also notes the shift in consumer behavior, saying, "the demand for low-sugar products has increased dramatically as consumers heed the advice of health professionals and take action to prioritize their long-term health by reducing sugar intake." Mintel estimates the reduced sugar market could add $36 billion over the next three years.

Challenges arise when using non-nutritive sweeteners in reduced sugar products. These alternatives can bring along undesirable characteristics or off-tasting notes. You may discover the need for creative and innovative solutions for your reduced sugar products to mirror sucrose and deliver the quality customers expect.
What's Driving Demand for Reduced Sugar Products?
While some have described sugar as the new nutritional "bogeyman" replacing fat, the driving factors behind a boom in reduced sugar products are a bit more nuanced.
Health Aspirations
Consumers are seeking out healthful options on grocery store shelves, with three in five saying they choose low-sugar products for their general health.
Labeling Changes
In 2020, the FDA required food and beverage manufacturers with $10 million or more in sales to update the Nutrition Facts label to include "added sugars" in addition to "total sugars." Manufacturers with less than $10 million in sales were required to make the same addition by January 1, 2021.

"Added sugar" has become something consumers, especially parents of children under ten, look at when comparing products. An IFIC survey found that 41% of consumers who look at the "added sugar" section do so for comparing between products, and 40% do so for general awareness.
Natural Sweeteners in the Spotlight
Consumers have a sweet spot for natural sweeteners. More than two-thirds of consumers agree that sugar or sweetness should come from natural sources. The naturally sweetened low-sugar market is nearly four times larger than the artificially sweetened low-sugar market.
More Options Across Grocery Store Aisles
More consumers are aware of their reduced sugar options while perusing grocery store aisles. Low-sugar products are growing faster than their higher-sugar competition, claiming meaningful market share and space on retail shelves. As one of the first categories to rise in popularity, low-sugar wellness bars account for 33% of all wellness bar sales. Growth continues to outpace higher-sugar bars, suggesting this and other categories will continue to gain market share.
Mintel lists other grocery store aisles where low-sugar product growth is outpacing higher-sugar counterparts:
Alcohol
Bakery
Breakfast
Candy
Cookies
Dairy
Drinks
Ice cream
Nutritional bars
Sauces
Yogurt
Formulation Challenges of Reduced Sugar Products
Anyone wishing to deliver value to customers through a wider selection of reduced sugar products will most likely face some formulation hurdles. Non-nutritive sweeteners may deliver a sweet taste and lower sugar numbers on the label, but other characteristics of these sweet alternatives may require more adjustments to mirror the experience of sucrose.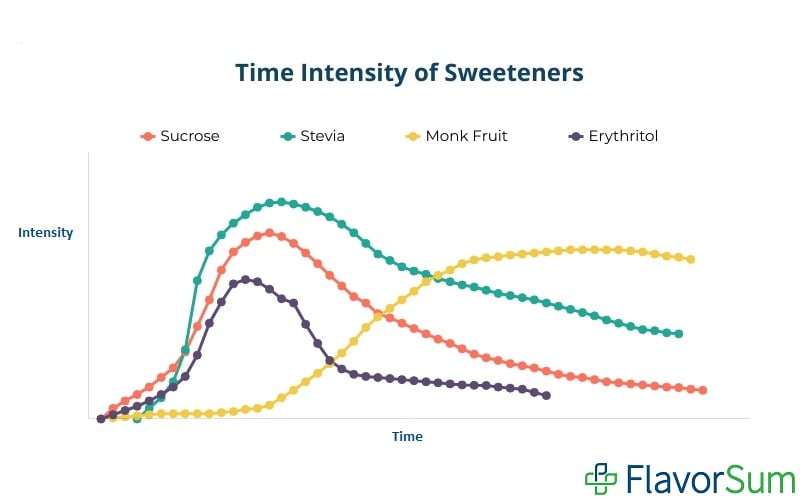 For example, stevia and monk fruit are becoming popular sweeteners. However, both plant-based alternatives can introduce some off-notes. Stevia has a bitter aftertaste akin to licorice, and monk fruit is reminiscent of melons or melon rind. Despite these challenges, Stevia continues to gain traction in new food and beverage launches, according to Mintel.
Product developers may gravitate toward sugar alcohols such as Erythritol in combination with stevia in their formulations to help provide a sucrose-like profile and mouthfeel. Erythritol's price point drives significant cost challenges into the product and creates digestive discomfort for some consumers. The FlavorSum team uses a more cost-effective approach.
Finding Your Sweet Solution with FlavorSum
FlavorSum provides solutions to deliver the delicious results your customers expect while meeting your sugar reduction goals. Our formulation process mirrors the taste and texture of sucrose to deliver a familiar experience while lessening distractions of substitutes like stevia.
Step 1: Front Sweet Onset
Since the upfront sweetness from non-nutritive sweeteners like stevia is typically delayed, our team adds those notes back through flavor.
Step 2: Balancing Middle Sweet Intensity
The middle sweetness is more intense. We help optimize the sweetener usage level and use sweet FMP (flavors with modifying properties) technology to deliver the desired sweetness impact.
Step 3: Mitigate Back End Linger Through Masking
Next, we use bitter masking technology to reduce the negative taste and sweet lingering that's typical with high intensity sweeteners.
Step 4: Restore Mouthfeel
In the final step, we provide a solution that builds back the syrupy mouthfeel of sucrose that many applications require, delivering a delicious final product.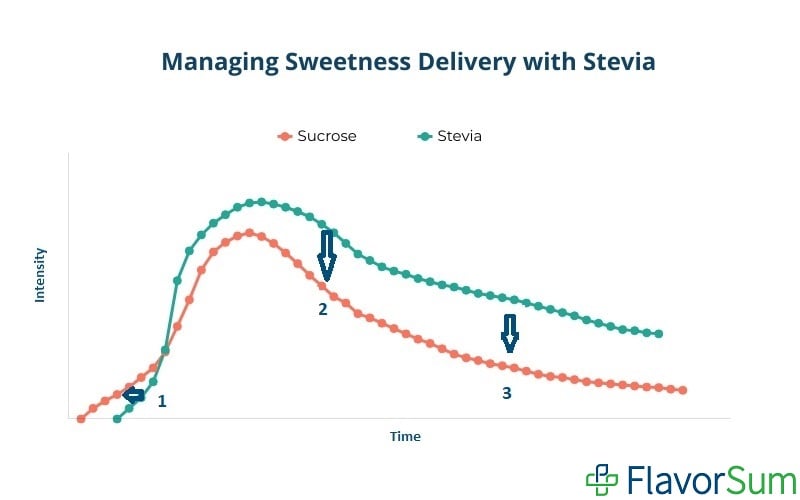 Specifications
We offer a range of solutions to optimize the taste experience in reduced or zero-sugar products by:
Enabling up to 50% sugar reduction with natural flavor
Improving taste profiles of both natural and artificial non-caloric sweeteners
Offering FEMA/GRAS labels as natural flavor in the US, Canada, and EU
Offering organic compliant options
Providing availability in liquid and powder Formats
Optimizing any reduced/zero-sugar food or beverage
Find Your Sweet Solution with FlavorSum
We can work with you to provide affordable solutions to speed your time to market, extend your in-house capabilities, and achieve unmatched reliability. Contact our team to discover your next sweet solution for reduced sugar products!