Far from being "bland" or "boring," vanilla has a nuanced flavor profile that offers a rich tasting experience, whether used on its own or in combination with other flavor notes. Vanilla's creamy, warm, and oaky notes make it a popular choice across categories. Consumers enjoy its classic, inviting taste in everything from ice cream and bakery items to carbonated soft drinks and alcoholic beverages.
Food and beverage manufacturers have many challenges to overcome in the vanilla industry. Those looking to differentiate themselves and build market share should look for a vanilla supplier to help them navigate the market's challenges while delivering vanilla solutions to perfectly complement products and delight consumers.
Challenges in the Vanilla Market
Supply chain disruptions, the price of vanilla beans, and sustainability concerns have made it difficult for many companies to source vanilla reliably. Only 15 countries in the world produce vanilla to meet the increasing demand. Madagascar currently produces 80% of the world's vanilla, with Indonesia, China, Mexico, and Papua New Guinea providing additional supply (Innova). With so few countries growing vanilla beans, the vanilla market is susceptible to price volatility.
Supply Chain
Price fluctuations and less-than-ideal curing practices have made it challenging to source enough quality beans to keep pace with consumer demand. The pandemic further interrupted vanilla production, especially in Madagascar.
Supply is also affected by climate and weather events. In 2017, a cyclone destroyed around 30% of Madagascar's vanilla crop, making vanilla four times more expensive until dropping slightly in 2019.
Now, the need for vanilla is on the rise again as the foodservice industry recovers from COVID-19 restrictions. China and Brazil have emerged as vanilla-consuming countries, contributing to world demand which has grown at a 3% rate in recent years.
Sustainability
Despite vanilla's popularity, sourcing sustainability remains an ongoing concern. Consumers are becoming more conscientious about where their products come from—they want to know the vanilla in their favorite ice cream or chocolate chip cookie has been sustainably and ethically sourced.
Many brands have recognized that being an active player in the vanilla sector now comes with increased responsibility. Investing in sustainable vanilla sourcing practices and communicating this commitment with consumers has been a tactic for brands to differentiate themselves, build consumer loyalty, and safeguard against future vanilla crises.
Vanilla Solutions Offer a World of Opportunity
Even with the concerns and challenges with vanilla sourcing, experts say that this iconic flavor will maintain its classic appeal and strong market positioning (Innova).
FlavorSum sources vanilla beans from Madagascar using sustainable and fair-trade practices. Working directly with food and beverage manufacturers, we create flavor solutions to deliver the desired taste profile and bring a unique flavor experience to the customer.
Exploring Flavor Profiles
Versatile applications for vanilla can lead to surprising and novel flavor combinations. Like a fine wine brings flavor notes from the region where the grapes grew, vanilla beans carry the tastes and smells of their country of origin. The regional soil, climate, harvesting, and production methods all impact the flavor.
Think about these regional nuances when developing the flavor profile for your food or beverage. Tahitian vanilla has a floral, fruity flavor profile, making it a popular choice for French pastries. With its creamy, spicy-sweet character, Mexican vanilla works well with chocolate or warm spices like cinnamon and cloves.
Flavor Associations by Vanilla Bean Origin
India – dark, chocolate, smokey, creamy, sweet

Madagascar – full, rich, smooth, sweet, beany, creamy

Mexican – mild, sweet, creamy, smooth, spicy (clove, nut, woody)

Tahitian – floral, creamy, heliotropine, anise, fruity cherry

Ugandan – earthy, bold, creamy, sweet, milk, chocolate

Indonesian – mild, smokey, woody, pruney

Papua New Guinea – anisic, musky, fruity, floral, sweet
Cleaner Labeling
With more consumers seeking organic and natural flavor options, FlavorSum can deliver organic and natural WONF solutions for cleaner labeling. A 2020 study found that 50% of consumers are more likely to buy a product if they recognize all of the ingredients listed on the label and "made with natural ingredients" claims were "very appealing" to 81% of respondents (Food & Beverage Insider). And natural WONF vanillas provide an agile landscape for creating profiles that bring out regional flavor notes.
Exploring Across Categories
Vanilla became more popular across many food and beverage categories in 2020. One category of note is carbonated soft drinks (CSDs), where vanilla is emerging as a fast-growing niche. While cola, orange, and cream sodas are the most common vanilla-flavored CSDs, brands can explore other pairings to create excitement and novelty for their consumers. Vanilla can also sweeten foods and beverages (Mintel) and help reduce sugar without artificial alternatives.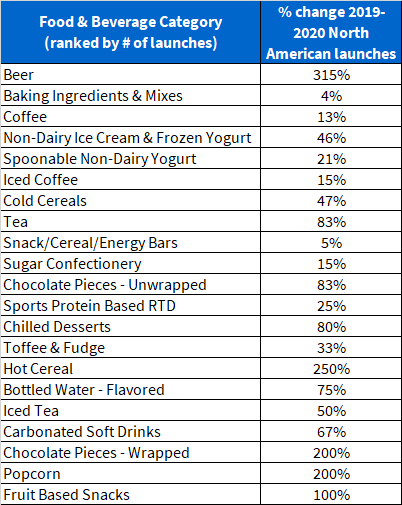 Source: Mintel GNPD and Innova New Products Database
Source Vanilla with FlavorSum
From premium crafted extracts in 1x, 2x, and 3x folds to organic, natural WONF options, FlavorSum has vanilla flavors to align with your needs. Contact us about our vanilla solutions and ask how we can help get your products to market quickly and cost-effectively.