Rapid evolution blurs the lines between established Flavored Malt Beverages (FMBs) and the expanding flavored ready-to-drink (RTD) alcoholic beverage segment, including RTD Cocktails. FMBs are primarily seltzers, while flavored RTD alcoholic beverages can include hard (fermented) teas, coffees, and kombucha. RTD cocktails feature flavors atop grain neutral spirits or replicate favorite drinks like wine spritzes or vodka martinis. Because all are ready-to-drink, consumers often view the subsets as one category.
The opportunity to capture some of the market growth from any of the formats is tempting.
Global consumption of RTD cocktails grew more than 40% in 2020, and they are forecast to reach USD 1.63 billion within the next 6 years.

In the U.S., hard seltzer gained +130% in 2020 as the leading RTD sub-segment, driving volume above total spirits. Worldwide sales of hard seltzer passed the USD 4 billion mark, and some estimates predict the market will surpass USD 14 billion by 2027.
The total RTD category is becoming crowded, shifting from 10 brands in 2018 to more than 65 last year, excluding on-premise or direct-to-consumer labels. Online liquor retailer Drizly reported almost 170 RTD brands in 2020, up from 85 in 2018.
Standing out from the pack and finding a path to success with RTD Cocktails or FMBs involves formulation and flavor decisions and an understanding of the regulatory landscape.
The Menu of Bases is Expanding for RTD Cocktails
Mintel's Global New Products Database (GNPD) shows North American launches of RTD cocktails more than doubled in 2020, with almost 60% of the new entries labeled seltzers. Currently, vodka is the most popular spirit foundation for RTD cocktails. Wine-based cocktail entries, including spritzers, coolers, and seltzers, more than doubled in 2020.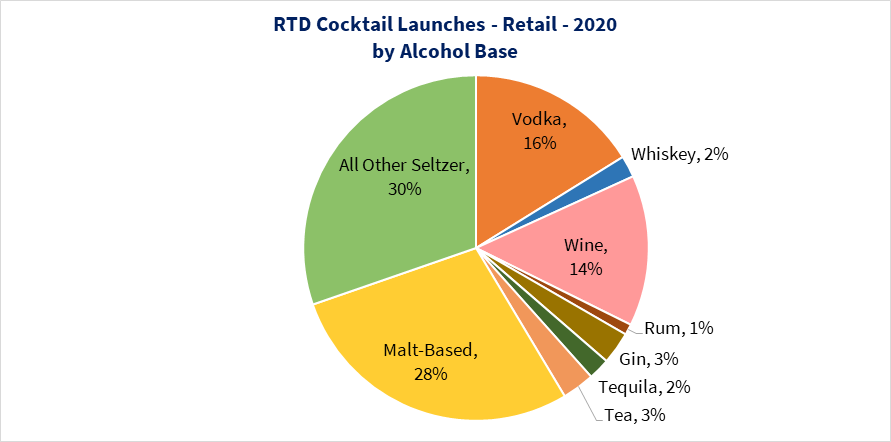 In addition to affecting the cost of goods, the base of a RTD Cocktail has tax and distribution implications.
Tax rates on FMBs currently follow beer taxation laws. Although distribution regulations vary across the U.S., most states permit distribution in grocery outlets. Canadian rules also allow sale in grocery stores with strict guidelines about alcohol content, package size, and tax rates.

RTD cocktails produced with spirits, wine, or neutral grain alcohol require a distilling license. And beverages featuring a wine or spirit base have a higher taxation level, with distribution limited to wine or liquor stores.
If you have an existing beer or spirits brand, your choice of RTD base should align with your brand strategy. Delivering a taste that fulfills the promise on the can is vital, but if your brand story highlights the process, your chosen RTD base should reflect craftsmanship.
Notably, consumers are becoming more discerning about alcoholic beverages overall, including spirit-based RTD cocktails, asking questions about authenticity: where and how the brand is made. If you choose a spirit base for your RTD, sharing the history and heritage credentials can boost credibility.
Flavor Trends in RTD Cocktails
North American retail launches captured by Mintel's GNPD show 15 individual flavors represent more than 40 percent of flavored alcoholic beverage launches in the last 3 years. As the segment expands, many entries continue to offer these mainstay flavors.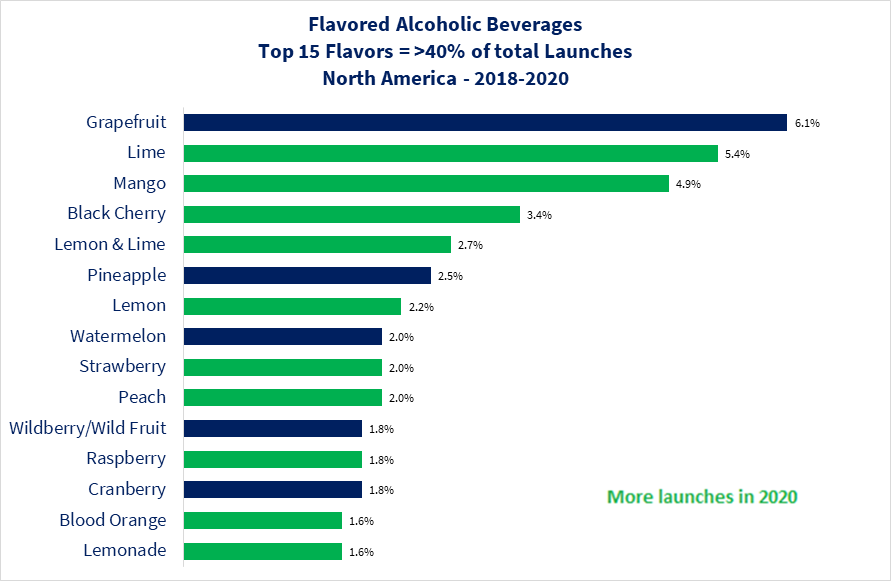 Blended flavors such as Pineapple-Coconut or Strawberry-Guava represented half of flavored alcohol launches, increasing 45% in the last year as producers increased creativity to build interest in their RTD.
YTD launch data through July shows more than 130 new flavored alcoholic beverages, an increase of 33 percent. While Mango, Lime, Grapefruit, Black Cherry, and 'Margarita' flavors topped the list, new tastes entering the category include:
Strawberry Lemonade

Lime Margarita

Strawberry Margarita

Pink Lemonade

Tropical Punch
Flavor selection often complements the RTD base and supports brand strategies for ABV, functionality, and positioning. New entries in the past year feature characteristics such as:
Lower carbs, zero sugar

No additives/preservatives, organic, natural

Bolder fruits, refreshing, and unique flavors such as:

starfruit-lime and lemon

cucumber and mint

dill pickle

Inspiration from 'cold-brew' coffees, some with regional tie ins such as Belfast coffee

Probiotics delivered through yogurt wine blended with fruit juice and flavor

Limited edition flavors:

for the summer season: sparkling strawberry daiquiri or rose wine spritzer

or for fall and winter: peppermint or apple cinnamon

Functionality through cannabis-enhancement or ingredients such as ginger, cloves, and turmeric
Consumers have expectations about the functionality found in RTD alcoholic beverages. A recent FlavorSum survey of North American benefit-seeking consumers revealed the top functions they associate with drinks are:
Energy

Mood enhancement

Immunity
If functionality is an objective, matching RTD cocktail ingredients and positioning with these desired extras will help gain trial among your target audience.
Fun can be a Compelling Part of the RTD Cocktail Experience
While NPD in RTD Cocktails reflects consumer demand for light, premium, and convenient alcoholic beverages, fun often plays a role in driving brand appeal. Brand equity and flavor represent essential avenues to delight consumers, but the RTD product's name can be a powerful mechanism for creating interest. Recent examples of brands with a light-hearted approach to naming conventions include:
Steel Reserve Alloy Series: When Your Parents Threaten to Take You Off Their Phone Plan Malt Beverage with Watermelon Flavor
Capo Italian Deli: The Fauci Pouchy, in several flavors such as:

Strawberry lemonade, made with strawberry-infused gin
Boozy peach-infused tea made with bourbon and lemongrass
The Alcoholic Painkiller, with rum, pineapple, orange, coconut, and nutmeg

Chicago Distilling: Canned Transfusion Cocktail featuring Ceres Vodka, Grape, and Ginger
Absolut: Berry Vodkarita
Square One: Pear of Roses and Cucumber Therapy
Primed: Pom Collins and Angry Arnie
Whether you incorporate a quip or choose a straightforward positioning, tapping into the premise (and promise) of RTD Cocktails with messaging will resonate with consumers:
Focus on quality, consistency, and convenience.
Provide a taste adventure at home or wherever people choose to celebrate.
Offer a versatile beverage that delivers a memorable experience straight from the can (or bottle) or over ice.
Tips for Navigating Regulatory Requirements for RTD Cocktails
In an earlier article, we highlighted the process for getting U.S. government approval of alcoholic beverages, including RTD Cocktails.
If your brewing or distilling process includes filtration to change color, adding flavor ingredients or concentration, you'll need to submit a formula to the TTB, the U.S. regulatory agency.
When you add flavors, you need to include a

Flavor Ingredient Data Sheet (FIDS)

with your application that identifies the:

Flavor manufacturer

Flavor name and TTB drawback number

Alcohol content

Natural or artificial labeling designation

Maximum usage rate for the flavor, which reflects other ingredients the flavor may contain, like vanillin, caffeine, maltol, propylene glycol, and preservatives.
Brewers and distillers in Canada have unique guidelines for flavoured purified alcohol created through fermentation. Unstandardized alcoholic beverages, like RTD cocktails, must include a complete list of ingredients and components on the package. And RTD alcoholic beverages produced in Canada cannot contain added caffeine.
Regulating agencies may also ask for the following as part of the formula application:
Laboratory analysis

for imported products with more than 7% ABV, alcohol-free malt beverages, or other case-by-case submissions. Submitted product samples are part of the application process.

An

Ingredient Specification Sheet (SPEC)

when a beverage contains a multi-component ingredient. For example, added fruit juice in a RTD cocktail would require a SPEC sheet showing ingredients in the fruit juice.
Shaking up the RTD Cocktail Market
For additional insights, regulatory support, or flavor solutions to launch your RTD alcoholic beverage, contact the FlavorSum team. We'll help speed your time to market with an innovative, buzz-worthy flavor experience!